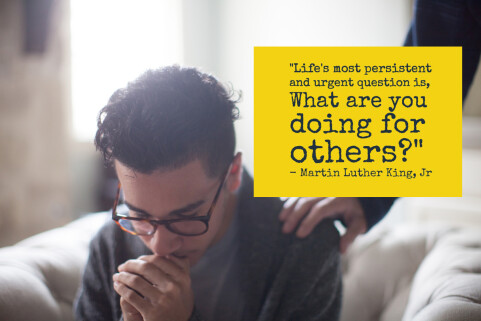 Have you ever heard the saying, "Wherever you are, BE?" Maybe the saying isn't grammatically correct BUT, the saying has resonated with me from the first time I heard it.
It's meant to get our attention and help us to realize that wherever we are placed at a moment in time, we should really BE there.
Be PRESENT, Be ENGAGED, Be AVAILABLE, Be INVOLVED, Be INTERESTED, Be INVESTED.
AND to me, a Christ follower, it sounds a lot like a call to action to ... be like CHRIST.
I started to reflect on all of the places that I get to "BE" on a weekly basis from the standpoint of what makes up my community and realized that my community includes so many circles: my family, my church, My Crossfit group, my work friends, my daughter's volleyball team, my daughter's middle school and many more.
I began to think even more about my opportunities to practice "BEING" amongst those people that I'm afforded the chance to be in community with and then actually "BEING" like Christ to them.
I thought about the following questions to help me evaluate how I'm doing in the communities that I find myself placed in by God.
Do I actually "see" the people in my community?
Am I taking the time to ask how they are doing and really mean it?
Am I listening to and hearing them in order to know how to be available?
Am I looking for opportunities to build relationships within the communities that God has placed me?
Am I praying to God to send me someone that I can help and show love to?
Our communities give us the opportunity to show the love of Christ. Our communities give us the chance to listen to people who are struggling. Our communities give us an opportunity to receive love when we're struggling. Our communities give us the chance to show hospitality. Our communities give us a chance to share the Gospel!
I know Jesus is pleased when we consider each other and as you evaluate how to show love and really "BE" in your current communities, consider Romans 12:9-18:
"Love must be sincere. Hate what is evil; cling to what is good. Be devoted to one another in love. Honor one another above yourselves. Never be lacking in zeal, but keep your spiritual fervor, serving the Lord. Be joyful in hope, patient in affliction, faithful in prayer. Share with the Lord's people who are in need. Practice hospitality. Bless those who persecute you; bless and do not curse. Rejoice with those who rejoice; mourn with those who mourn. Live in harmony with one another. Do not be proud, but be willing to associate with people of low position. Do not be conceited. Do not repay anyone evil for evil. Be careful to do what is right in the eyes of everyone. If it is possible, as far as it depends on you, live at peace with everyone."
Wherever you are, BE.
---

Lynn Utley is a Mom to Kamryn, Step-Mom to Logan and wife to Marvin Utley. She seeks to know Jesus Christ more and more each day and to truly trust Him so that she can live into His promises. She is an avid Crossfitter and a 24 year employee of Johnson and Johnson. She loves to read, write and relax in her spare time!