Midweek for Children
For a long time, we've heard from parents of young children how challenging it can be to try to make Wednesday evenings at the church building work with family schedules and bedtime routines. With this in mind, we're shifting our approach to mid-week ministry to our children.
We'll be equipping parents with at-home resources to help families create meaningful and transformative interactions, offering occasional Zoom hangouts to foster community, and Lizzy, our Student Discipleship Minister, will be taking time each week to connect with kids to build meaningful relationships.
Parent Resources
This season's resource is a simple Prayer of Examen guide to do with your whole family! This can be done around the dinner table or before bedtime!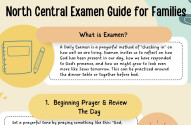 Zoom
When it's time for one of our Zoom hangouts, you can click here to join!
Showtime
If you have games or performances you'd like to invite Lizzy to attend, fill out this Google form!