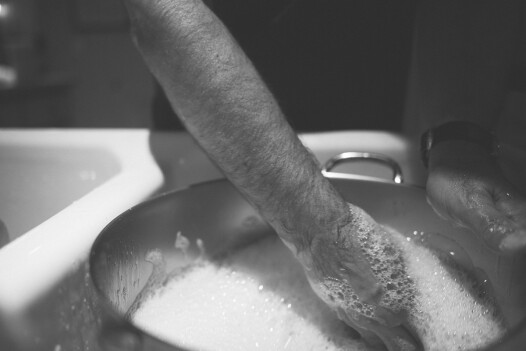 Most people actually do quite a lot of work without monetary compensation. It's true. Mothers raise babies, students and retirees outnumber employed people and there are always unemployed people seeking work as well. How do their lights shine?
You are the light of the world. A city set on a hill cannot be hidden. Nor do people light a lamp and put it under a basket, but on a stand and it gives light to all in the house. In the same way, let your light shine before others, so that they may see your good works and give glory to your Father who is in heaven. Matthew 5:14-16
Washing dishes was once the bane of my existence. I hated washing dishes and was ingenious in finding ways to avoid that particular chore.
A friend of mine showed me a better way. He loved to vacuum and he would happily vacuum every day. He took joy in that chore and told me he used that time for meditation and prayer. His light illuminated my dishpan hands and gave me a new perspective.
Most everyone has a disagreeable chore or responsibility––something unpleasant that must be done. Changing diapers, practicing the violin, applying for jobs, or studying for exams may be something you dread. Doing such things for God changes your point of view. Knowing that he cares how you do your work can make it much easier. Being aware of God's constant presence and appreciation can make the challenges you face opportunities for joy.
Your joyful work may cause someone to thank God for you.
There is a nice quiet Whirlpool dishwasher in my kitchen now, but sometimes I fill the sink and wash dishes by hand and love it.
---

Scott Morris is a retired Quality Engineer from Raytheon Middle East Systems. Married to Lisa since 1980, they have three grown children. As a family, they lived 6 years in Riyadh, Saudi Arabia. Scott later worked 10 additional years solo in Jeddah, Saudi Arabia. He now drives part-time for a vehicle relocation company.

Scott grew up in the church of Christ and was baptized at the Broadway and Walnut Church of Christ in Santa Ana, CA in 1961 by Br. Harry Robert Fox. He attended Harding College after graduating from high school in Murray, KY.

Scott and his family moved to Indianapolis from Riyadh in January 1999 and placed membership at North Central shortly afterward.
SaveSave
SaveSave
SaveSave
SaveSave
SaveSave
SaveSave