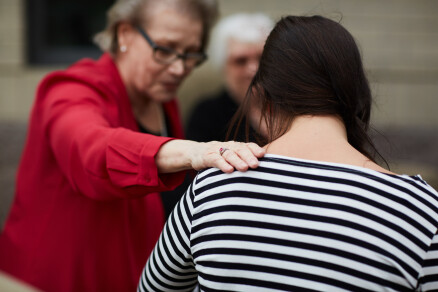 A few weeks ago, in an attempt to do a bit of organizing, I grabbed my box of letters and notes that I've kept through the years and started sorting through them. I had letters from family and friends from as far back as high school. Simple notes that were dropped in the mail from a friend in college. Birthday cards from my parents. A thank you card from my sister-in-law from before she was my sister-in-law. Emails from my Dad that I printed out (a good thing because I'm not sure I could access that old email address these days).
A few of the special letters came from my Grandmothers. My Dad's Mom (Granny to me) sent me a letter typed on a typewriter during my freshmen year of high school. My family moved that year. It was really hard for me and she took time to write to me about a time when she experienced the same sort of move and apprehension. My Mom's Mom (Grandma) sent me cards while I was in college. Simple little notes to let me know she was thinking about me. I remember getting those notes and feeling encouraged.
I'm sure I did not appreciate those notes as much when I received them. I enjoyed them but I had a lot of life to live and so I didn't realize just what a blessing it is to have generations of people encouraging me. I didn't yet know the calling they were following came from the God who created us all. You see, God did not create us to live separate lives. He does not call us to attempt to figure this life out on our own. He gave us a church body, a family, to walk beside us. One of our greatest resources for godly living is sitting right beside us on Sunday morning.
I have been contemplating inter-generational church lately. The idea was introduced to me by a dear friend at church, one who has much more wisdom than I do. I find myself longing for my kids to know their church family. Not just their friends and our small group but the whole church. I want them to feel as though they have a whole church of grandparents that they can look to for wisdom and guidance. I want them to hear what the generations that have gone before me have to say about this life we are living.
It is not just a blessing to learn from the wisdom of those who have made it further in life than we have, it is a calling.
Likewise, teach the older women to be reverent in the way they live, not to be slanderers or addicted to much wine, but to teach what is good. Then they can urge the younger women to love their husbands and children, to be self-controlled and pure, to be busy at home, to be kind, and to be subject to their husbands, so that no one will malign the word of God. Titus 2:3-5
As a young adult, do you long for mature, godly role models—a Naomi, a David, an Elizabeth—to guide you in the truth of God's Word? As a spiritually mature Christian, do you feel called to mentor?

---

Kelly Dean is a native Texan and mother of three who captures the joys and trials of parenting on her personal blog, Only Gracie Knows. She finds that the best way to lead her children in their own faith is to be constantly growing in her own.

An active member of North Central since 2007, Kelly has taught Bible classes for many ages. In an era when people are bombarded by social media, Kelly strives to build real-life connections and be a welcoming person who makes everyone feel included. To that end, she and her husband Matt lead North Central's Small Group Ministry and are hosts to a small group in their home.

Matt and Kelly were introduced on an Aggies for Christ mission trip when Kelly was a student at Texas A & M, where she graduated with a degree in nutrition. They were married a year after they met. One of Kelly's keys to a happy marriage is being an open book––while making sure Matt never has to read her mind. Her favorite Bible verse is Philippians 4:4––a blueprint for finding peace and joy in the midst of any situation.