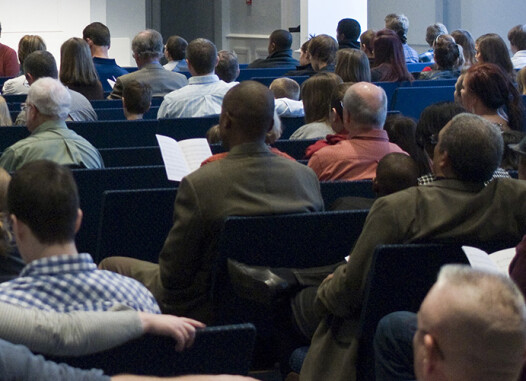 Sitting in the worship service, looking around at others, I may only see ordinary people, but if I look closer, with eyes of gratitude, I may catch a glimpse of a higher truth. I am part of something truer than what my tired eyes are taking in. God has transformed his people into impressive examples of love and grace. I am not naive; I still acknowledge the pain and brokenness among us. We are far from exemplary on our own merits. There are a few struggling with addictions among us. Some have been abused; some have abused others. Many endure profound grief. We stand and sing, however, grateful together.
Sometimes I may not sing. Most of the time I am not able to carry a tune, much less contribute to the four-part harmony our tribe practices. Sometimes I dislike the song. Yes, sometimes I am distracted by the unnecessary apostrophe floating on the screen or the wrong homonym rendering the lyrics confusing.
That's okay because I see she has made it to church today. She is up and down chasing crayons from under the pew, escorting wriggling legs down the aisle, and back up again, solo, but smiling. I wonder if she hears the sermon … if it is discouraging that she expends this much energy when she could have stayed home, slept in.
He gets up to say a prayer. We rarely see eye to eye on doctrinal issues. But there he stands––wording a prayer of contrition so beautifully––and I remember a time his gentle words comforted me in a difficult moment last year.
We sing.
We pray.
We hear the words of God together.
It all adds up to greater substance than it would initially appear. Some of us are lonely. Some of us depressed. Some of us are struggling with sins we have dragged about as on "ponderous chains" for years. Some of us are just thankful, hopeful, eagerly leaning into God's promises. We live and sing and pray as if they are already true. And they are.
God transforms the ugly into something weak and fragile, distinctly vulnerable, but beautiful.
She bothers me sometimes with her abrupt manner of speaking, as if she has no time for being polite, for choosing grace over expediency. I don't know it, but I annoy him with my stubbornness, forever asserting myself when I could have just let it go. All of these are examples of what the poet Gerard Manley Hopkins meant by "dappled things." Somewhere among the archaic language, the newly-hyphenated words, and melodic alliterations, we understand his message. We are a mess. We are freckled and plain, mundane, tedious, distorted and ineffective. We are hopelessly hopefully ordinary.


Pied Beauty by Gerard Manley Hopkins
Glory be to God for dappled things –
For skies of couple-colour as a brinded cow;
For rose-moles all in stipple upon trout that swim;
Fresh-fire coal chestnut-falls; finches' wings;
Landscape plotted and pieced – fold, fallow, and plough;
And all trades, their gear and tackle and trim.
All things counter, original, spare, strange;
Whatever is fickle, freckled (who knows how?)
With swift, slow; sweet, sour; adazzle, dim;
He fathers-forth whose beauty is past change:
Praise him.

We are, indeed, "all things counter, original, spare, strange."
And not unlike Elisha and his servants seeing the Lord's angel armies for the first time encircling Israel upon battle, we gather on a Sunday in pews nominally comfortable, with people who only appear ordinary, with "landscape plotted and pieced," and we catch a glory-glimpse. And we praise him.
We gather each Sunday, for "those who are with us are more than those who are with them." (2 Kings 6:16).
Praise him.
---
April Bumgardner is a mom of three boys, two of whom she currently homeschools. Generally, it seems there are more than three, but she has counted several times, and there really are just the three. She has been married to William since 1996. So far, it's going fairly well.
April was raised in Phoenix, Arizona in a strong, Christian home. She received her B.A. in Russian from Ouachita Baptist University in Arkansas, and her MPhil in Slavonic Studies from the University of Glasgow in Scotland.
Her favorite Bible verses tend to be about rest and the hope of heaven. When she was little, however, her favorite was Daniel 1:4 when Daniel and his friends were taught "the learning and the tongue of the Chaldeans." Perhaps because this sounded so exciting, she has lived in Belgrade, Serbia; Vienna, Austria; Sendai, Japan, and Glasgow, Scotland. None of these places actually speak Chaldean, but she did learn to speak Serbian pretty well.
April loves drinking coffee, reading, and sautéing garlic. She inconsistently maintains a personal blog on parenting, educating through good books, and on matters of faith.
She believes narratives, and stories of all kinds, offer the most profound avenue by which to learn and enjoy God's truths.
April and her family have been happily involved at North Central since 2012.
SaveSave
SaveSave
SaveSave