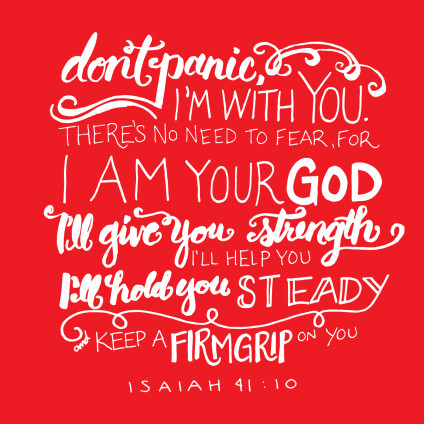 I've been reflecting lately about being fearful. Looking at even the last three to four weeks in our state and country, there would seem to be many things to fear. From mass shootings, to hate crimes and natural disasters.
Then there are the everyday fears. Did I make the right decision at work today? What do people think about me? Am I really a good parent? Is something wrong with my health?
I get it, there is a lot of fear and concern out there, from the tragic to the everyday. But, as a believer in Jesus Christ, I know how good God is and developing a spirit of fear is NOT from HIM.
When fear creeps in, I want to rely on God's strength through prayer and the pursuit of his comfort. I am certain that each of us as believers feel the same way, as none of us wants to react to challenges or circumstances in life in a fearful manner.
Because of that, I thought I'd use this time to direct all of us to a few key scripture that deal with fear and may help provide the comfort and strength needed when you find yourself thinking more about "being afraid" than "God's faithfulness."
Philippians 4:6
Do not be anxious about anything, but in every situation, by prayer and petition, with thanksgiving, present your requests to God.
Psalm 56:3
When I am afraid, I put my trust in you.
Psalm34:4
I sought the Lord, and he answered me; he delivered me from all my fears.
2 Timothy 1:7
For the Spirit God gave us does not make us timid, but gives us power, love and self-discipline.
Joshua 1:9
Have I not commanded you? Be strong and courageous. Do not be afraid; do not be discouraged, for the Lord your God will be with you wherever you go."
1 John 4:18
There is no fear in love. But perfect love drives out fear, because fear has to do with punishment. The one who fears is not made perfect in love.
Isaiah 41:10
So do not fear, for I am with you; do not be dismayed for I am your God. I will strengthen you and help you; I will uphold you with my righteous right hand.
After reflecting on these scripture, perhaps you can ask yourself these questions when fear creeps in:
Are you thinking about your fears instead of praying and presenting your requests to God?
Do I need to love more and fear less?
What has your past shown you about fear? Is it worthwhile to spend time being fearful?
What and who am I trusting, instead of God and his son Jesus?
Could your faith use a boost, by relinquishing the concern you have to Christ?
What practices could I begin that would help me refuse to respond to challenges in life in a fearful way?
I pray that we can all be encouraged through God's word and realize that He is here to strengthen and help us, and because of that, we don't need to fear anything.
---
Lynn Utley is a Mom to Kamryn, Step-Mom to Logan and wife to Marvin Utley. She seeks to know Jesus Christ more and more each day and to truly trust Him so that she can live into His promises. She is an avid Crossfitter and a 24 year employee of Johnson and Johnson. She loves to read, write and relax in her spare time!